The Journal was designed and developed by David R. Michael (AKA "DavidRM") in 1996. Since then, he's used it nearly every day, and he's never really stopped working on it. And, yes, I'm talking about myself in the third person. To make it even weirder, I will now quote myself:
I started keeping a journal in 1993, not long after I got married. All part of my plan to become a writer, which is still on-going. =)

In those early days, I used MS Word for Windows, but I wanted something more. In 1996, after the release of Windows 95 and Borland's Delphi 2, I created the first version of The Journal to make it easy to keep a journal. The Journal has grown a bit since then.

As of today (November 2015), I have over 21,000 entries in The Journal, divided among 142 categories. That encompasses my personal journaling going back to 1993, my professional journaling back to 1996, my blogs, my Linux notes, my nonfiction articles and books, my short stories and novels, and more. I use The Journal for pretty much everything.  =)

-David Michael
The Journal 1 was released in June 1996. The Journal 7 was released in May 2018.
If you're interested in the full history of The Journal, check out The Journal's Version History (and read it backwards, from bottom to top).
David (there I go again) is the sole designer and developer of The Journal. He also answers all the emails and fixes all the bugs.
From the Archives
Here is what The Journal 1.51 looked like in January 1998.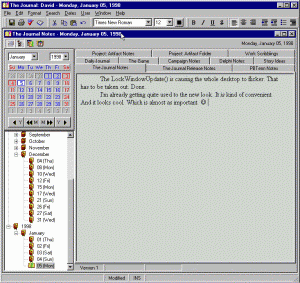 Beveled gray was all the rage in the late 90's. 🙂
About David R. Michael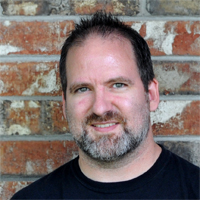 In addition to The Journal, David has designed and developed video games and written numerous articles about journaling, writing and video game development. He's the author of two nonfiction books about video games (The Indie Game Development Survival Guide (2003) and Serious Games: Games that Educate, Train and Inform (2005)) as well a growing number of short stories and novels (including The Girl Who Ran With Horses (2010)). David has kept a personal and professional journal since 1993. And he wears glasses.