The Journal Gives You the Power!
Store more than just words in your entries! The Journal provides full text formatting and font control using any Windows TrueType or Type-1 font installed on your PC. But don't stop there! The Journal can store anything in an entry: digital photographs, spreadsheets, word processor documents, and more!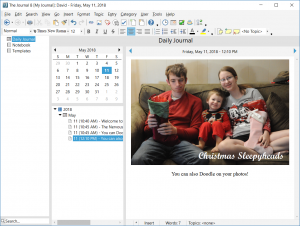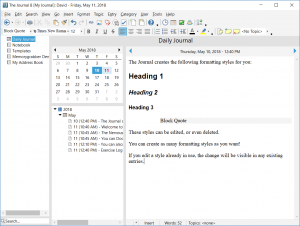 Organize your thoughts! The Journal supports as many entry categories and topics as you desire. You can create a category for "Daily Thoughts," another for "Project Notes," one for "Poetry," and so on. You can even mark different parts of the same entry with one or more topics. So you can keep a journal of anything you like, any way you like.

Let The Journal remind you! With The Journal's reminders and tasks you can stay on top of your busy schedule. You can set reminders for appointments, events, tasks and special days.
Use powerful word processing features such as live spell checking, a thesaurus, and auto-correction! The Journal includes an American English spelling dictionary and thesaurus. (Spelling dictionaries are also available for additional languages, such as British English, French, and German.) The Journal also provides an auto-correction feature that automatically corrects common English misspellings!
Even More Power: Searching, Linking, Printing and More!
Find what you're looking for with lightning-fast searching! The Journal provides a powerful collection of search tools. The search will look in your entry text, entry names, and even your image descriptions. You can also search by topic. Finally, searches can look in all of your entry categories, just the categories you specify, and can also be limited to a date range.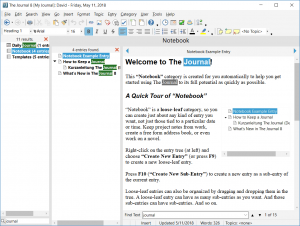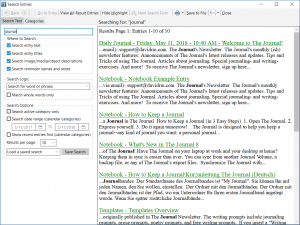 Link to anything! You can have links to entries in The Journal, links to bookmarks within entries, and links to Web pages, email address, files on your local computer–even to content within other software on your computer.
Post to a Blog! The Journal supports posting to most major blog software. Only post those entries you choose, while keeping your private entries as private as possible.
Print your entries for binding, sharing or for hard-copy storage! The Journal prints entries with full formatting to any Windows printer.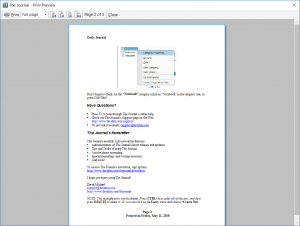 See what You can do with The Journal!