The Journal is more than just "diary software"!
The Journal can do so much more than just help you keep a daily diary (and it can do that really well).
Make new entries easily!
Make entries on any date, at any time!
Review past entries with just a click on the calendar!
Runs on nearly all versions of Windows!
Search for anything, anywhere in your journal!
Store anything! (text, digital photographs, videos, files…)
Doodle in your entries, or even edit photographs!
Print your entries for binding or sharing!
Set reminders for appointments, events, tasks & special days!
Be as organized as you want to be!
Keep your secrets secret!
Be as secure as you want to be!
Full password protection! (But only if you want it.)
Want more than the default level of security? The Journals' Extended Security features are also available to lock your journal up as tight as possible.
Your entries are automatically saved as you make them!
Built-in backup and restore!
Easily move The Journal to a new computer!
See what You can do with The Journal!
The Journal is more than just a "note taker"!
The Journal is a powerful journaling and writing tool that can help you take control of your life.
Create a digital scrapbook of your life!
Organize your notes about your family, about your work, about a hobby, about anything.
Write a short story, a magazine article, or even a novel.
Remember your appointments, events, tasks & special days!
Find whatever you're looking for with The Journal's powerful searching.
Get inspired!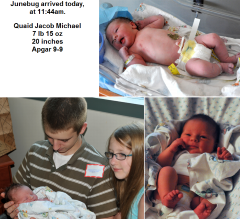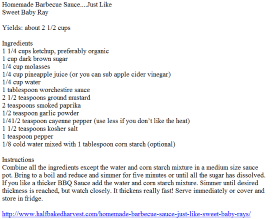 What a great program! I have been journaling on my computer for several years now, but have never been happy with the program I was using. Once I found yours I immediately moved all of my data over…and registered. Thanks!

–Craig Miller, GIS Applications Developer, Pacific Northwest Geographics
Keep a Journal Your Way!
The Journal is highly flexible and can be personalized to suit your style. Whether for business or personal use, you can customize The Journal to be exactly right for you.
Daily entries, weekly entries, or even hourly entries. All of those are possible. Make entries on future dates up to 9999 AD, or as far back in the past as 1 AD. You can even have entries that aren't tied to any date at all.
Organize your categories as an expandable tree, or in color-coded tabs. Use the included paper backgrounds for your entries, or import your own. Choose the visual theme you want from the large collection available.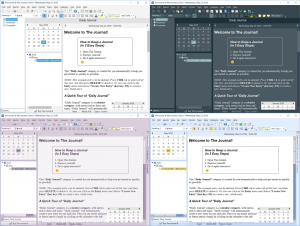 Make The Journal your journal.
The Journal is just the greatest! It's so well organized, easy to use, and full of incredibly useful features. I especially like it's wonderful linking abilities. This program has actually helped me tremendously at work – where I now get the most use out of it. I am, by nature, VERY disorganized, and it gets me in trouble constantly at work. I have a job wherein I often work on several projects at the same time, jumping back & forth between them, and I don't have the time or wherewithal to keep notes to help me keep track (i.e., where should I put the note- main folder, project folder, project sub-folder, on the server, which folder on the server?, etc.) Now it's all in ONE PLACE, with links to pertinent files- it's just WONDERFUL!!

I HIGHLY recommend this program to anyone who needs to be able to easily keep track of all their computer work, as well as anything else they feel like typing text about. Well worth the price!

–Chris Boose
Take The Journal with you!
The Journal can be installed to any USB or external hard drive, allowing you to take The Journal with you anywhere! Just plug the USB drive into any Windows computer and you can run The Journal–with all your entries! No need for synchronizing or copying files. The Journal is always right there!
Click here to learn how to use The Journal on a USB drive!
Use The Journal in the Cloud!
Do you have a cloud drive (like DropBox or Skydrive) mapped to a folder on your hard drive? You can install The Journal (software plus all your data) into your cloud drive folder. Then you can run The Journal and access your entries on any Windows computer where you use that cloud drive.
Click here to learn how to use The Journal in the cloud!
Relax! I'm Here to Help!
To make The Journal even easier to use, if you have any questions at all, just ask (support@davidrm.com)

. I'm here for you.

And who am I? I'm David Michael, the designer, developer, and first user of The Journal.