The Journal makes it Easy for you to keep a personal journal or diary!
The Journal is the perfect daily writing tool. The Journal always knows what day it is. You can even go back and add entries you forgot or didn't have time for.
I have been looking for a secure off-line journal which I could also add photos to each entry and your Journal is just fantastic. I always dread downloading new software as I am very lazy about reading the instructions ( I'm an 'If all else fails read the instructions' type of person!!)  however I've found your Journal so super easy to use and so easy to import my photos into. Thanks for a FABULOUS product. I also like the fact that I can go back for years and add significant holidays/events retrospectively.

Thanks

Elaine Gillies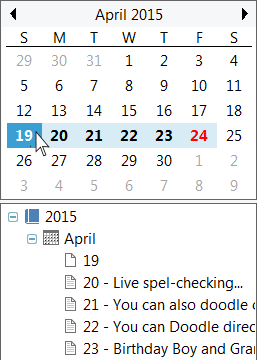 Review your past entries easily!The Journal makes reviewing your previous entries as simple as looking at a calendar. Check out yesterday, or jump to last month, or see your entry from years ago with no more effort than a mouse click or a keystroke.
Find a thought from last week, or lookup the phone number you entered 6 months ago! The Journal allows you to search through all your categories and entries, looking for a word, collection of words, or a phrase.
Make your entries at any time! The Journal can start when you start Windows, and then sit in your Windows taskbar or system tray, just a click or keystroke (hot-key: Ctrl+Alt+J) away.
Setup reminders or even leave "future notes" to yourself! The Journal includes simple-to-use reminders for appointments, events, tasks and special days. The Journal also allows an entry to be placed on any date: past, present or future!
Synchronize The Journal with your mobile- and tablet-based software! Import your entries and notes from such products as EverNote, Penzu, and more.
Synchronize multiple copies of The Journal! Have The Journal on your laptop at work and your desktop at home? Keeping them in sync is easier than ever. You can sync from another Journal Volume, a backup file, or any of The Journal's export files.
Relax! I'm Here to Help!
To make The Journal even easier to use, if you have any questions at all, just ask (support@davidrm.com)

. I'm here for you.

And who am I? I'm David Michael, the designer, developer, and first user of The Journal.
See what You can do with The Journal!