by Peter Watson
For many years I have been trying to find the 'ideal' software for my local history research, with particular regard to house reconstitution, and the most sensible way of recording, accessing and displaying the information collected.
The family historian has so much more available to him, commercially, by way of choice of family tree databases (either online or for purchase) than does the house historian;  and for a one-placer, the use of family tree software can only satisfy one part of the whole spectrum of local history.
I discovered David RM Journal software a year ago, and knew then that here was the very thing I had been looking for; but like most of us, I was 'too busy' collecting information, sifting it, using it, transcribing it, filing it, yada yada yada, that I never had the time to sit down quietly and start to understand this new kit I'd found; how it worked, and how it would improve my research, allowing others to understand and benefit from the experience.
Two months ago, I made a momentous decision; To retire, and up-sticks to Herne Bay, on the north Kent coast. This decision also involved abandoning (at least for the present) all the work I had done over a period of three years, on the mid-Wales village of Bettws Cedewain, and start completely afresh on Herne Bay's history. Here was my chance to make a break with spreadsheets and word documents, as well as note pads and coloured pens, and have a good crack at The Journal.
When I purchased the package (about US$70) David Michael had just released Journal 7, so I had the latest brand new version at my fingertips –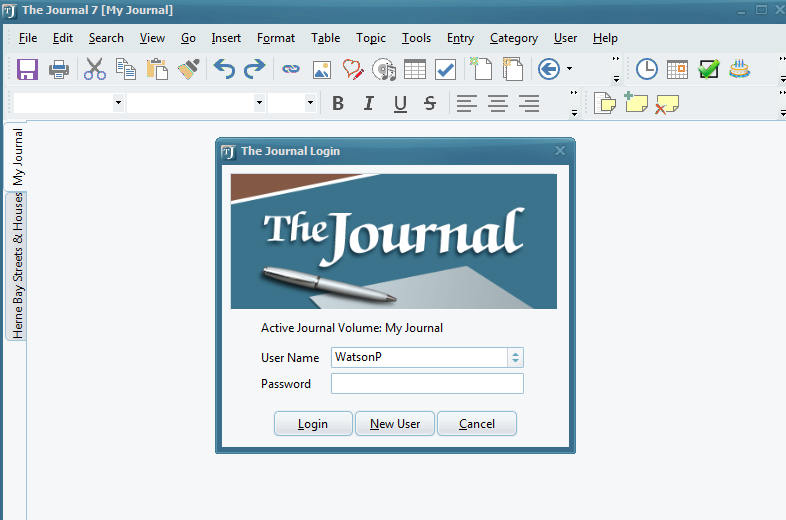 Fig.1
Everything is fully secured within your computer, and can be passworded, encrypted, etc.
You'll notice The Journal wasn't specifically designed for historical research (in fact David was surprised when I told him what I intended using it for!), but then I haven't ever found any software so designed, so nothing new there. When it comes to tracking house occupancy over time, it is the best I have come across; and there is so much more. Take a look at the Daily Journal feature:-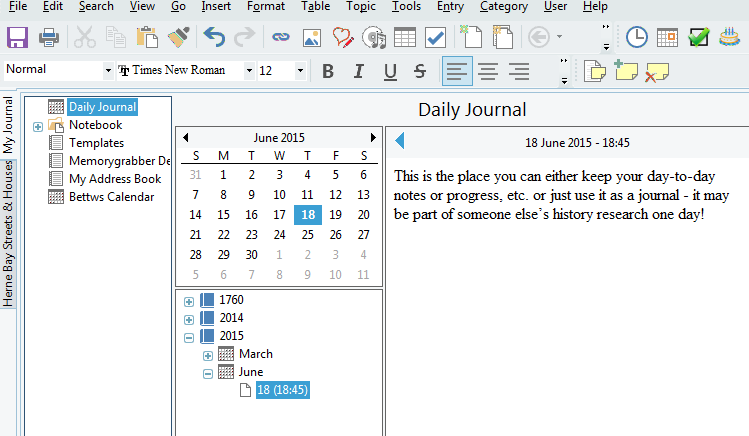 Fig.2
You can set up the Journal to a daily, weekly, monthly or yearly page, and can be set up to indicate the day, hour, and minute of entry. You will always know the day of the week of any entry (back to 1752), and you can log historic events (nationally or locally) back to any year you like. You can make your own templates, or cut and paste from other apps and the template will be copied.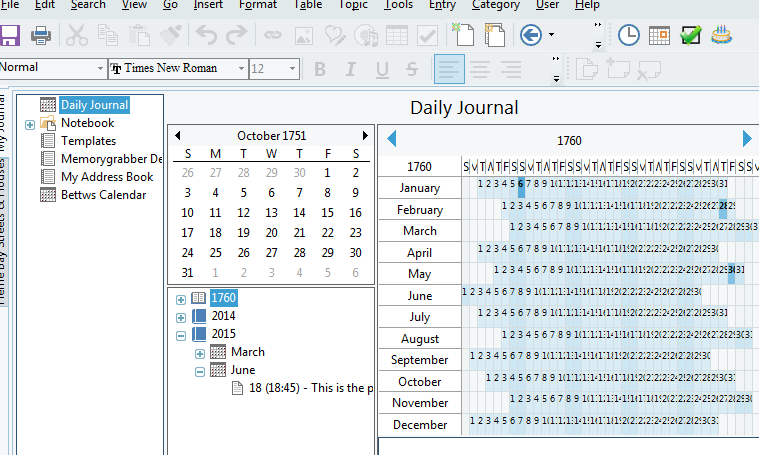 Fig.3
You can see a year-at-a-glance where certain dates have been populated in any given year; also there is a date-to-date calculator, reminder alarm for future dates, and you can add extra leaves if you need room for more information about a particular date.
My Address Book is perfect for keeping details of your contacts, and people who are looking for information about their ancestors, or their house. You can also keep your own to-do lists, either within the address book, or anywhere else you'd like.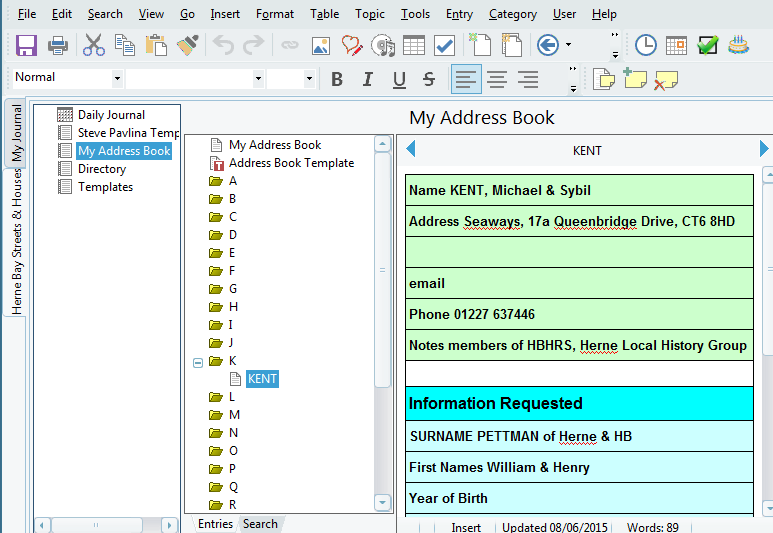 Fig.4
But the main attraction is the way in which you can keep the information about your place, in whichever way suits you best. It is a simple system, but very effective. For my project, Herne Bay, in 1893 there were approximately 1,000 dwellings. By 1911 there were more than 2,200, and by the 1930's perhaps more than 5,000! With all those houses, and all the people living in them to keep track of, I need to have a robust and versatile system; fortunately, as it is an important seaside resort for Londoners in the Victorian age and beyond, there is an abundance of very detailed street directories annually from 1889, and quite frequently before that, back to 1826. In the Journal I have created entries for each street, then sub-entries for each dwelling. The street entry can be used to keep track of its progression over the years, from the street's layout, curbing and sewering, through to full population, with name changes, notable happenings and documentation on the way.
The dwelling entry can be used to document the entries in each directory, chronologically, noting changes in tenancy, description of the property, changes of name, etc. Also you will be able, at a glance, to see changes within a family, if a tenancy changes from a man to 'Mrs.', or 'sen.' to 'jun.'. Everything  can be recorded in here; from vital records to censuses, valuations, newspaper articles, poor law, rates, probate, and you can keep it in simple text, or create a template for it. It is a neat mixture of simplicity and versatility (see Figs.5a & 5b)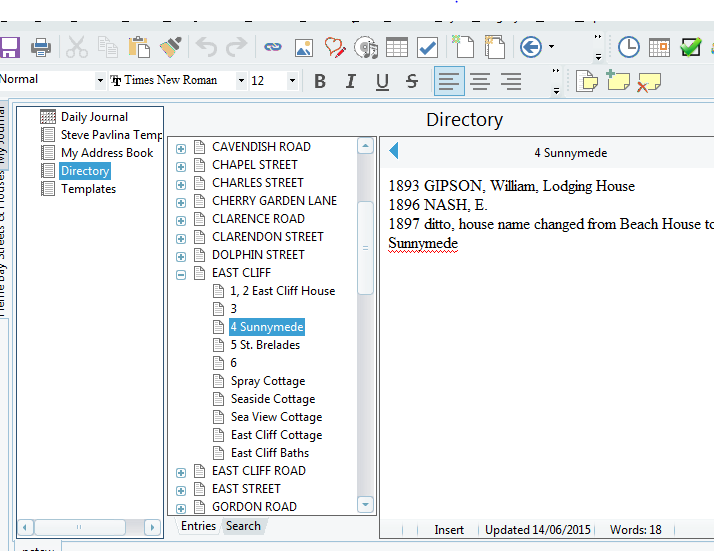 Fig.5a & 5b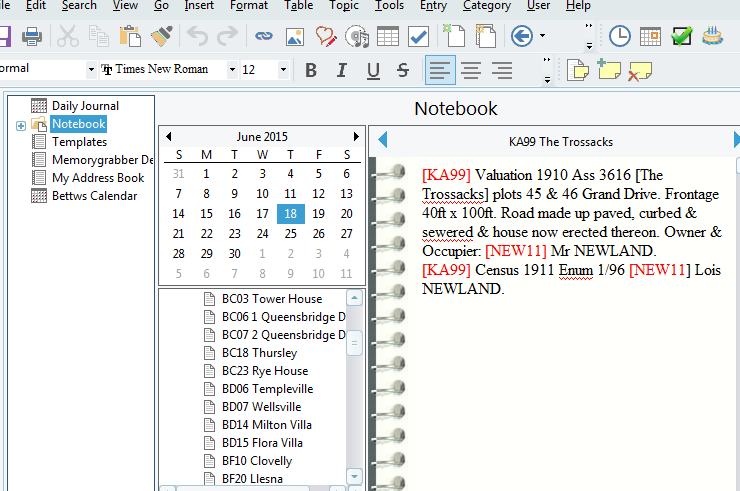 You can insert tables, images, date/time, bookmarks, symbols, links (more anon), media files, charms, timer, word count, etc. There is a superb Search facility:- If you want to find, for example, a house whose road you don't remember the name of, simply click on the Search tab at the bottom (see Fig.5a), type in the name of the house (or road, surname, first name, or any word at all), and all mentions of the word throughout the database will show on the result screen (see Fig.6). Click on a result to see details, then click on the entry tab to get to the original entry.
For additional versatility you can 'share' your Journal with others, either by sending it to them, or having a synchronised Journal; also you can have a 'cloud' version. However, as stated, the journal is not designed for One-placers, so there is still the need for separate mapping software (topic of debate within the society at present), and also for separate genealogical software. Nonetheless, you can use the Journal to link houses/families held within the Journal, by url to online mapping or family trees, thus binding the whole project together.
Pete Watson
Note: This article originally appeared in the newsletter "Destinations" for the Society for One-Place Studies and is reprinted here with permission.