Memorygrabber can Help You Write Your Autobiography
Don't let another year go by without telling and preserving your life story. It's never been easier for you than now with Memorygrabber andThe Journal!
With DavidRM Software's The Journal and Memorygrabber, you can quickly and easily create a memoir for yourself, your family, and future generations.
Memorygrabber quickly installs itself in The Journal and arms you with an arsenal of memory grabbing questions, topics, activities, games, resources, lists-to-create and more!
Memorygrabber will walk you through, step by step, and show you how to build your life timeline, and even conduct family history "interviews" with parents, grandparents and others.
Memorygrabber is also a virtual self-interview kit designed for you to tell your story when you just don't feel like writing or typing. For some, it is easier to tell the story, instead of writing it. So it's up to you how you use this versatile package.
Check out the Memorygrabber Demo. The Memorygrabber Demo is automatically installed with The Journal. On the Tools menu, choose "Add-ons…", then add "TJMemoryGrabber Demo".
You can add the Memorygrabber add-on to The Journal for only $15 US. If you have already purchased The Journal, you can upgrade to The Journal with Memorygrabber by clicking on the Help menu in The Journal, and choosing "Buy Add-ons for The Journal…"
The Memorygrabber ™ is also an e-book written by Michael R. Boyter of Family History Products, Inc.
Screen Shots of The Journal with Memorygrabber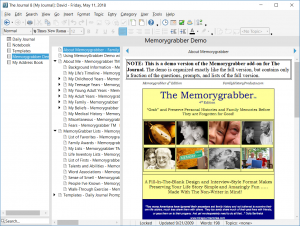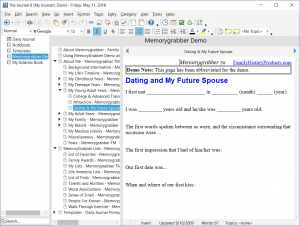 All Add-ons Available for The Journal
Relax! I'm Here to Help!
To make The Journal even easier to use, if you have any questions at all, just ask (support@davidrm.com)

. I'm here for you.

And who am I? I'm David Michael, the designer, developer, and first user of The Journal.
Start today!
If you have ever wanted to keep a personal journal, start a diary, or simply organize your many notes, now is the time. The Journal offers a Free 45-day Trial! So Download The Journal today!