The Journal's Powerful Features make it a Snap to Work on Multiple Writing Projects!
The Journal is, in my opinion, the best writing tool on the market, and I've tried every piece of writing software I could get my hands on. There are many that cost a lot more, feature all kinds of graphic enhancements, but none of these, in my opinion, provides the focussed environment that is truly helpful to the process of writing that The Journal does.

–Steve Zeoli, Freelance Writer
Get organized! Use The Journal to organize your writing projects. No more hunting through hundreds of word processor files in your "My Documents" folder. The Journal makes it easy to find what you're looking for in seconds.
Keep a Writer's Journal! The Journal makes it easy to keep a journal of your writing. You can also track your submissions to publishers and agents.
Quick and Easy Word Counts! See your current word count updated as you work, or use the special hot-key to count the words in blocks of text.
Do it your way! Tired of so-called "writing software" that dictates how you work? The Journal combines an incredible amount of flexibility with raw word-processing power, letting you organize and write your projects the way you want.
Keep all your drafts and revisions! With The Journal you can easily keep every version of a document. When you need to make a new draft, just copy the document into a new entry. Click here to learn how.
Creative Writing Prompts Every month, The Journal's newsletter includes prompts to help you improve your creative writing. These prompts are for free writing, prose, poetry, journaling, memoirs, and even opinion. See the growing collection of writing prompts online.
by David Michael

In late 2005, my 13-year-old niece, Heather, told me that my next book should be "about a grl and she is a brl rcr and she iz jus like ME" (translation: "about a girl who is a barrel racer just like me").

This article describes how I organized and wrote that novel using The Journal.
Side-by-Side Editing! Write your drafts with your outline open beside you. Or write in one pane while reviewing information in the other. The editor can be split horizontally (side-by-side) or vertically (one over the other).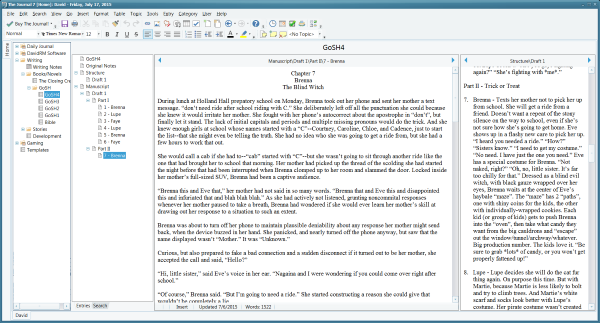 Distraction-Free Writing! Put The Journal's editor into full-screen mode and it will hide your Windows desktop, leaving you free to focus on just your writing.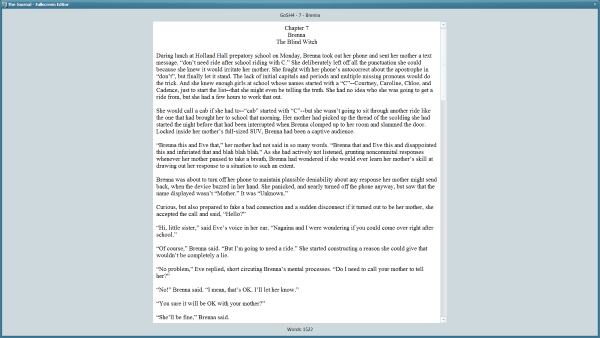 The Book Framework for The Journal
The Book Framework is a FREE addon for The Journal created by Benoit R. Charron to provide a quick and easy way to get started writing your novel in The Journal.
The Book Framework includes:
A structure you can build on to write your novel. Rename "The Book" to your own title and get started!
Detailed instructions for how to use The Journal to write your book!
Templates to help you build characters (including random name generators for men and women), locations, plot points and more!
Easily use multiple times for multiple novels.
How to Install:
NOTE: The Book Framework requires The Journal 6 (or later).
Open The Journal and log in.
Click on the File menu, Import sub-menu, and choose"Import Entries…"
Browse to find the file you just downloaded: TheBookFramework.tjexp
Click on "Import".
Let the import create all of the categories automatically.
When the import is finished, you can bring up "The Book" category, rename it your own title, and get started writing!
Relax! I'm Here to Help!
To make The Journal even easier to use, if you have any questions at all, just ask (support@davidrm.com)

. I'm here for you.

And who am I? I'm David Michael, the designer, developer, and first user of The Journal.
Start today!
If you have ever wanted to keep a personal journal, start a diary, or simply organize your many notes, now is the time. The Journal offers a Free 45-day Trial! So Download The Journal today!