Quickly and Easily Take Notes and Prepare for Class with The Journal!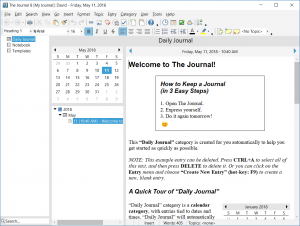 Take The Journal with you to class! If you have a laptop computer, you can take The Journal with you to class. Enter your notes directly into The Journal. No more trying to puzzle out your handwriting hours later. Plus, you can quickly sketch directly into your notes, and easily incorporate digital photos taken during class.
Don't have a laptop? The Journal can also be installed and run from a USB thumb drive, giving you ultimate portability. Just plug the thumb drive into any Windows computer, and you can use The Journal then and there.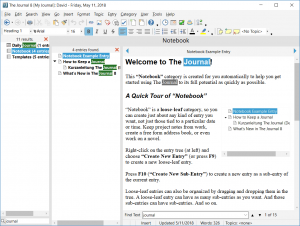 Get organized! With The Journal you can create a separate category for each class or major project. And know that with The Journal's powerful, built-in searching you can find exactly what you're looking for in seconds.
Never miss a class or forget an assignment! Use The Journal's built-in reminders to keep track of your class schedule as well as your projects and assignments. Have The Journal popup to remind you of what you need to do or where you need to be.
Quickly and easily write your papers! The Journal's word processing features include full text formatting with any fonts you choose, tables, print preview, and more. So you can build your outline and write your paper with easy access to all of your typed-in notes.
Make a record of your college life! "The college years are a time of major change and major decisions — no pun intended. For the first time, you are really on your own, and the decisions and experiences you'll be going through over the next few years will determine the direction of your life. This is the ideal time for a journal…" Read "The College Years Journal" by Michael Ham.
With The Journal you can also:
Post directly from The Journal to your blog!
Keep your secrets secret!
Share your entries with friends!
The possibilities are endless!
Relax! I'm Here to Help!
To make The Journal even easier to use, if you have any questions at all, just ask (support@davidrm.com)

. I'm here for you.

And who am I? I'm David Michael, the designer, developer, and first user of The Journal.
Start today!
If you have ever wanted to keep a personal journal, start a diary, or simply organize your many notes, now is the time. The Journal offers a Free 45-day Trial! So Download The Journal today!